OxygenForIndia
The organizations that propel our initiative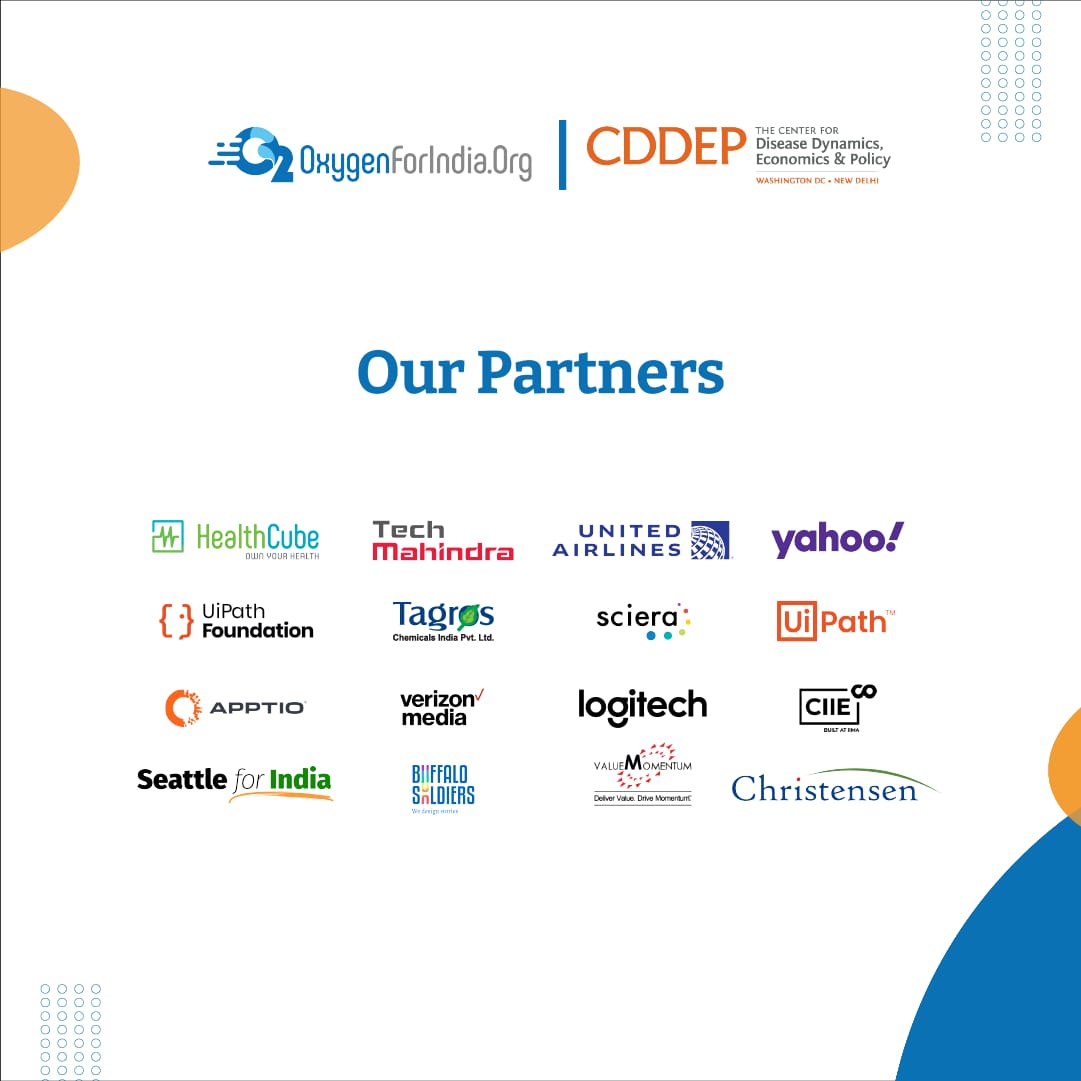 When OxygenForIndia was founded on the 25th of April, we never expected the power of the corporate world to back us the way it has.
When everything seems to be careening out of control, the measure of who we are is defined by what we can do with our resources.
We are incredibly grateful to the organizations that have stepped up to support us with all that they have in their arsenal.
Our special thanks to The Center for Disease Dynamics, Economics & Policy (CDDEP) for being the backbone of this initiative by providing their public health expertise.
Fund Raising
For any organisation to make a difference we need funding. While we have our own incredibly passionate teams working on this, both in India as well as abroad, it adds to the momentum when organizations step in to support the drive.
Procurement & Logistics
Procurement and logistics are the two pillars that support any organization's deployment of funds.
We are grateful to the companies that have stepped in to help us identify, procure, and transport supplies to India.
Operations
We are delighted to have the support of HealthCube with respect to our operations. Having conducted nearly half a million tests in one of their earlier Corporate Social Responsibility projects, their knowledge of running operations at scale is one of the things that propels us faster.
Online presence
With the crisis developing the way it is, it was important that we have a presence online to not only spread the word and garner more support but also to showcase the impact we are making during this time.
Sciera have contributed their expertise in helping us create content, design creatives and in executing our digital advertising campaigns. Their past experience as digital partners for organizations in driving the agenda for public good is an invaluable asset.
TalentSprint has extended their support to us. As leaders in AI – powered digital learning platforms, their support is both timely as well as hugely impactful.
We are hugely grateful to every one of these organisations for throwing their weight behind us.
We also thank Valuemomentum , Logitech , Apptio & MM Forgings for their generous donations.
The measure of who we are is defined by what we can do with our resources. The variety and scale of resources being made available to OxygenForIndia place us in a position to provide maximum assistance to impacted families during these difficult times.