OxygenForIndia
The individual stories of support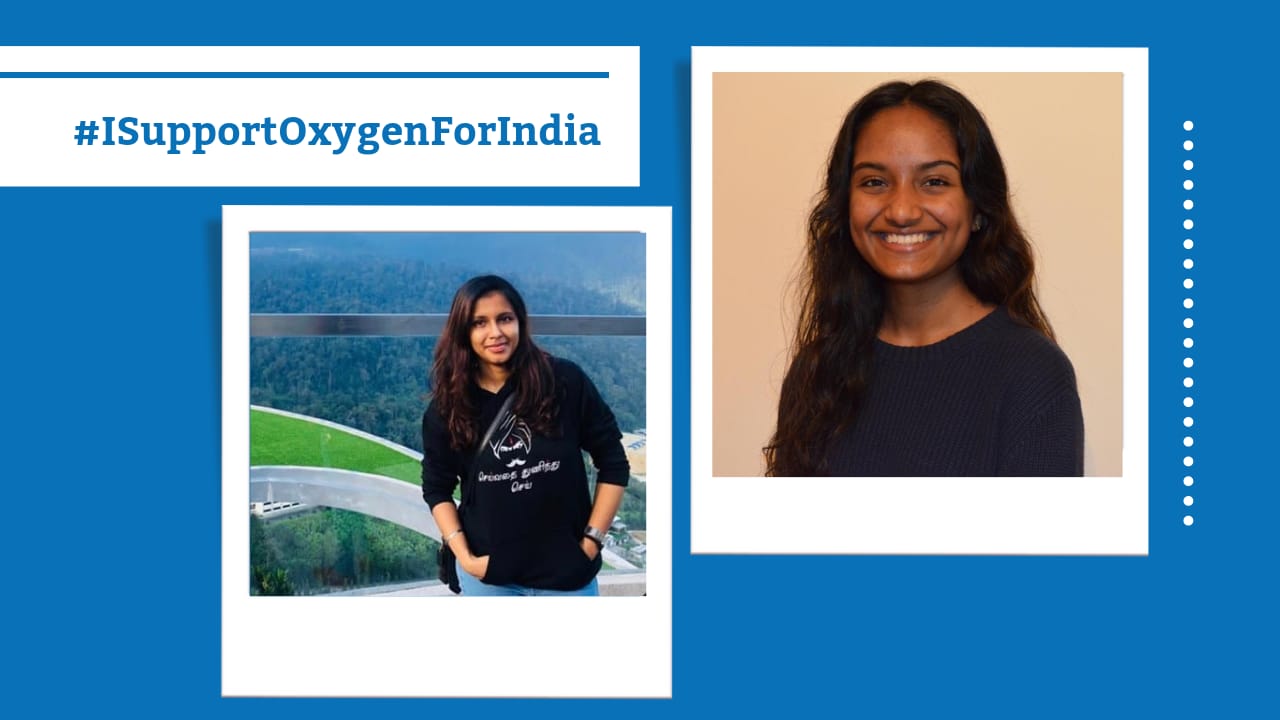 The generous support of organizations propel us forward without a doubt. But it is the individual who goes that extra mile to join the cause and raise funds for it that moves us.
It is individuals like these that have come together to collectively volunteer at #OxygenForIndia. And it is individuals like these who have the collective power to make this a movement that not only staunches the wound but ensures that the situation that caused it in the first place doesn't occur again in the future.
To fund raise for us at an individual level is a true show of humanity and we would like to share 3 such stories
Hema Kumaran lives in Johor Bahru, Malaysia. She was one of the people who would not sit by and watch as India went through this Oxygen crisis. Despite the fact that her own country was going into lockdown in a few days, she swung into action. She shared our post on her social media, urging people to support the cause. She also messaged people personally requesting their support. She hunted for statistics about the covid situation in India and posted it on her Whatsapp status as she garnered support.
After much back and forth, she found 24 other like-minded people who donated and she raised 2,000 RM (35,000 INR).
But there was one more hurdle she had to cross. While Hema was familiar with using money transfer companies, she did not know how to do an international bank transaction. And her bank account was not set up for it
With just one day left for Malaysia lockdown, she did not have much time. She also wanted to get the funds across as quickly as possible.
She managed to get the money across to her friend in India, who then, using her bank account, sent it onward to #OxygenForIndia
She messaged one of our team on social media to let us know. When we thanked her and said that we would like to feature her story on our blog, her response was touching.
"If that blog will stop the naysayers from interfering with my upcoming donation drive, I would be very happy."
Sujata Srinivasan lives in Connecticut, USA. As an independent journalist, her understanding of the situation in India was better than most. She knew that the Oxygen Crisis was not a lack of oxygen supply but a broken infrastructure. And to solve the problem for the long term what was needed was a solution that not only helped during the current crisis butto build something for the future.
This was the reason she decided to raise funds for #OxygenForIndia. She has raised more than 4,500 USD (3.3 Lakhs INR) so far and in an effort to keep donations coming she has put her cooking skills on the table.
"I am offering a thank you gift – a homemade Indian meal made by me to friends and family who donate more than 100 USD." Sujatha said. You can read more about her fund raising drive here
Sahana Murthy is not your average teen from New Jersey, US . She is someone who believes in making a difference. She directed her considerable energies to raising funds for #OxygenForIndia. One would expect a teen to reach out to her friends but she went directly to the decision makers.
She embarked on a fund raising drive where she reached out to parents of her friends.
Her system of keeping track of pledges and systematic follow up has helped her raise nearly 12,000 USD (8.8 lakhs INR) for #OxygenForIndia. She says, " It is incredibly important to realize privilege and do everything you can to help other people. "
She hopes more of her friends will join her in her fundraising efforts.
These are only three such stories. There are countless more.
Irrespective of the contribution amount, we are grateful to everyone who has contributed individually and/or led independent fundraising drives.
You are the ones who refused to be onlookers – who refused to discount the power of the individual.
You are the ones who know that Together, we will help India Breathe again.