OxygenForIndia
I have donated, where is the Oxygen?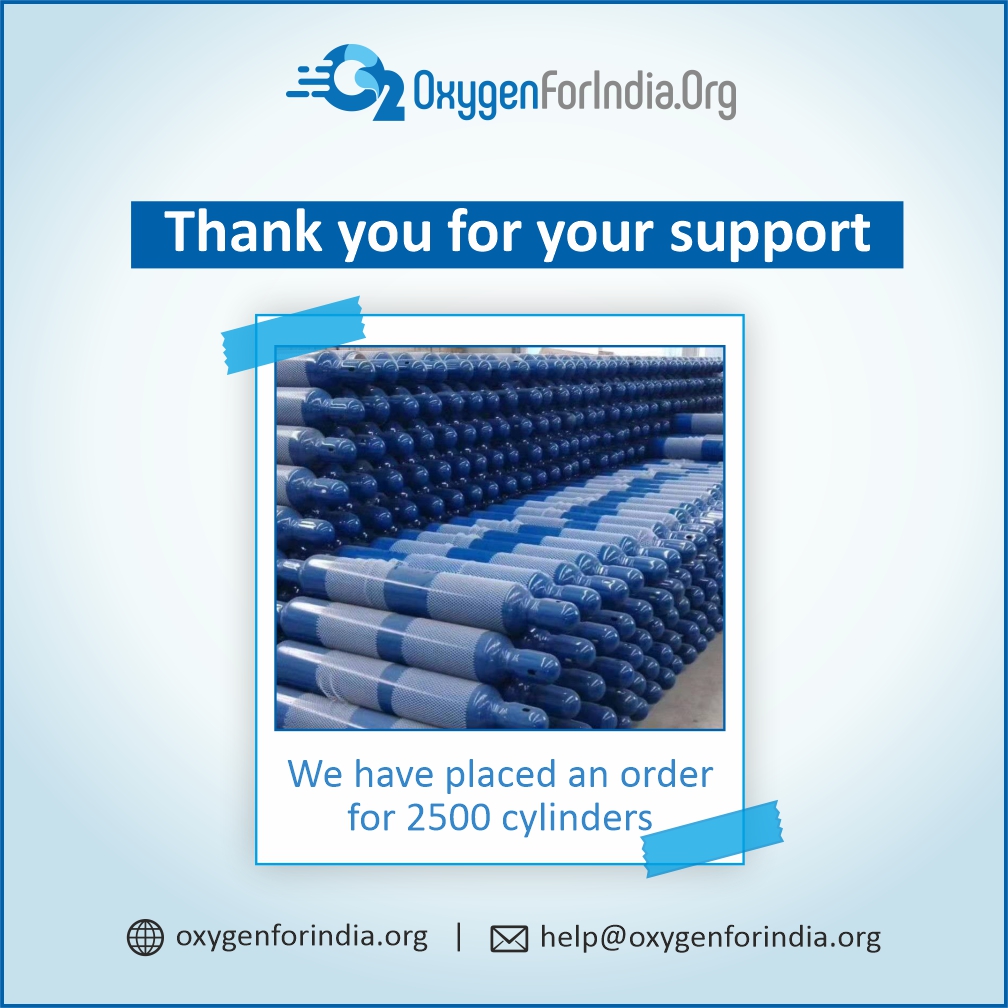 This is something that is a very legitimate question. But the fact of the matter is that it is not as simple as getting the donation today and releasing Oxygen cylinders or Concentrators immediately.
Here is what we are doing:
We have been able to help 50 patients already within the 5 days that we have started this initiative.That is 50 families taking a deep breath – literally and figuratively!
But we would like to emphasise – This is not about just reaching oxygen to everyone.
This is about making sure that the oxygen goes to the person truly in need. Which is why we are setting up a triage process at our desks.
This is about taking care of patients at home without the need for admission thereby freeing hospital beds for those in critical condition.
This is about helping hospitals augment their current oxygen supply.
This is about enabling turnover of beds so new patients can be admitted (hospitals are unable to discharge recovering patients because they have no access to oxygen).
And this is the approach that is going to ensure that we actually tackle the crisis in a way that can eventually help us surmount it.
It has hardly been a week since our inception but we have procured 5000 cylinders and 630 Oxygen concentrators.
But we still have to ship them down to India. With the situation being what it is, we are looking at getting one shipment of 2500 cylinders reaching Chennai. We are also expecting a shipment of Oxygen Concentrators to reach on the 9th of May.
Having said that discussions are also ongoing with a leading corporate in the US regarding their sponsoring a chartered flight for us. We will announce details soon.
Currently it is Delhi we are commencing operations in and with Delhi being starved of Oxygen and with local challenges in reaching the suppliers within Delhi, we are now stretching outward reaching towards other cities where we can leverage our connections to get cylinders into Delhi. While we have started with Delhi as the first city that needs our attention, we are expanding to 6 other cities – Kolkata, Ranchi, Guwahati, Hyderabad, Bengaluru, and Chennai.
Kolkata is already primed to start operations over the next few days. And as we fine tune our operations to meet the challenges that are unique to each city, we hope to ramp up our operations significantly.
What started as a last-mile connectivity initiative is now emerging into something significantly larger as is being dictated by the situation on the ground.