New
OxygenForIndia
Cylinders or oxygen concentrators?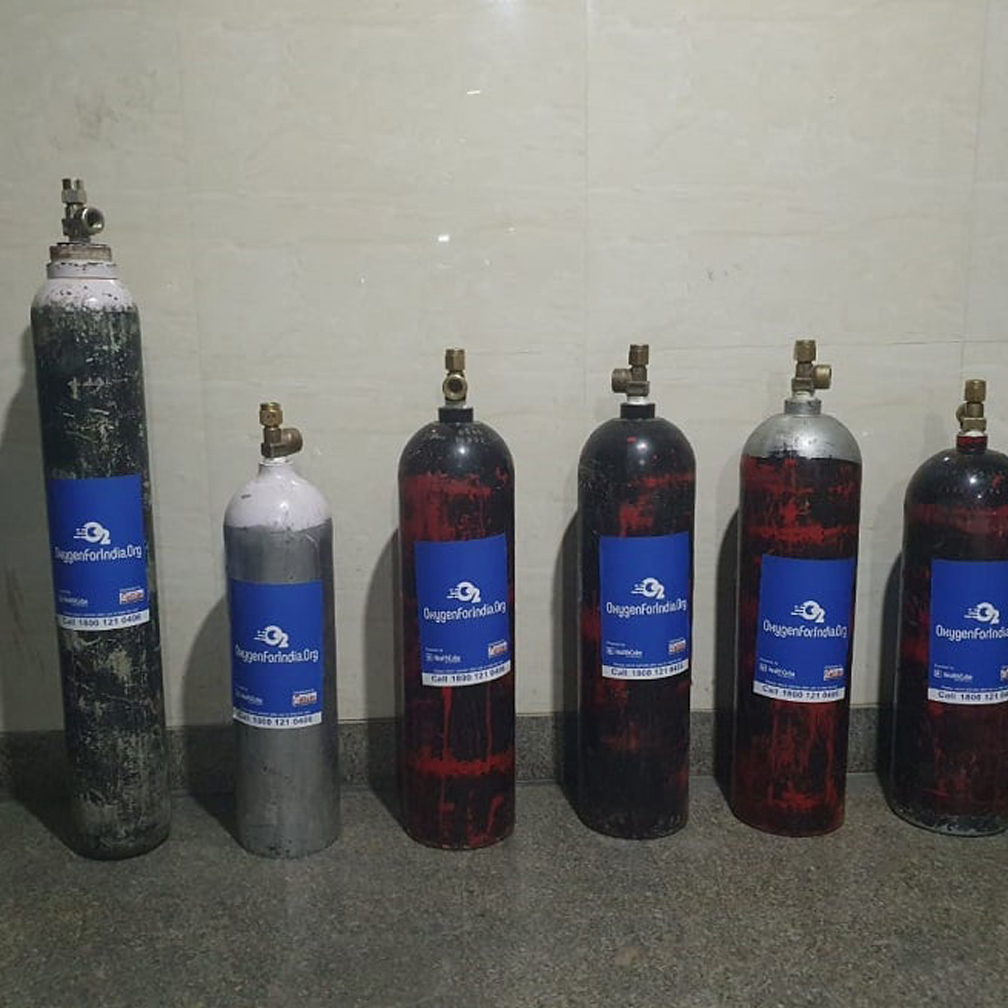 Amidst the several crises that India now faces, the one that is most critical is the need for medical oxygen. Contrary to popular belief, it is not that we are not producing enough, we are just unable to reach it to those who need it.
This is a problem for two key reasons. People with no access to medical oxygen need assistance at a hospital. Consequently, hospitals are unable to free beds since recovering patients do not have access to medical oxygen at home. Enabling patient access to medical oxygen without the need for a hospital bed would remove a significant amount of stress from our overextended healthcare system.
At OxygenForIndia we are working on that last mile delivery problem. Through OxygenForIndia desks at hospitals, people can now request and receive oxygen cylinders or concentrators.
This brings us to the question of which is better – a cylinder or a concentrator? Cylinders are bulky, which leads to challenging logistics when it comes to delivery but are cheaper and easier to refill. Concentrators are lighter but are more expensive and need electricity to run.
Well, it depends. If you are going to be in a place where electricity supply is assured, then oxygen concentrators are a better option; a large portion of the cost is the upfront cost and the only recurring involve electricity. There are limited logistical hassles associated with transporting a concentrator. But bear in mind, in a country like India electricity is not reliable or even available in some places and should hence be factored into the decision. If the concentrator shuts down, it could be dangerous for someone who is dependent on it.
Secondly, Covid patients require 90% oxygen concentration at 1 litre- to 5 – litre flow and above. This requirement can rise to 10L when they are suffering from acute respiratory discomfort.
A 5kg to 10kg oxygen concentrator has a small compressor which can only provide an output of 90% oxygen at 1 litre to max 2 litre.
A 15kg to 19kg oxygen concentrator typically has a compressor that can easily provide an output of 90% oxygen at flows from 1 litre to 5 litre oxygen (ideal for COVID and critical care patients).
A 20kg and above oxygen concentrator has a large compressor which can provide an output of 90% oxygen from 1 litre to 10 litre flow (ideal for COVID and critical care patients and for dual patients who use the same machine with accessories).
These are the points to keep on mind while deciding to purchase an oxygen concentrator.
On the other hand, an oxygen cylinder with a minimum assured 90% oxygen concentration takes the guesswork out of the procurement decision. Another reason the oxygen cylinder is a much more reliable option for India is that it takes advantage of the pressurized oxygen to operate removing the need for electricity.
This is why, although we are procuring oxygen concentrators, we are focusing considerable energy on making oxygen cylinders available to the common man.
As we write this blog, OxygenForIndia has raised $450k. This has enabled us to provide 50 cylinders to patients and order an additional 2500 cylinders and 632 oxygen concentrators. We are targeting 7 cities – Delhi, Kolkata, Ranchi, Guwahati, Hyderabad, Bangalore, and Chennai – and are currently setting up the process for people to request and receive a cylinder or concentrator in these cities.